MED CAPERS
Adventures in Mediterranean Cuisine
Öor "You donít know shit about food, Captain"
From November of 1970 until May of 1971 the 3rd Battalion, 8th Marines were afloat as Landing Force Mediterranean (LANFORMED) under the command of LtCol Wesley (Duff) Rice, an old Recon Marine who had served a tour with the British Royal Marines. We were the last pure Battalion Landing Team to deploy to the Med. In early May we were relieved by the first Marine Amphibious Unit (MAU), which had its own organic helicopters and a beefed up service support capability. Our only helicopter was a Navy bird that belonged to the Commodore of the Amphibious Squadron. He was CAPT Don Whitmire, USN, who was an All-American football player at both the University of Alabama and at Navy. A big man since his college football days, he earned the sobriquet "Phibron Fats" from his embarked Marines.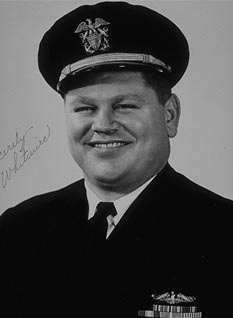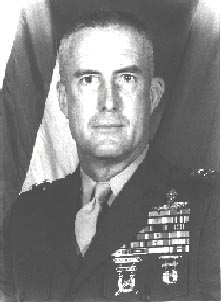 Rear Adm. Don Whitmire. Picture MajGen "Duff" Rice, USMC (Ret.)
From College Football Hall of Fame
Two of Duff Riceís rifle company commanders were yours truly and Capt. Dan Phipps; both free swinging and hard charging bachelors at the time. Both were married soon after their return from this Med cruise, and fortunately for them, taken under complete control by their new wives. My outfit, India Company, was embarked in USS Terrebonne Parrish (LST-1156) and Danís Mike Company in USS Dubuque (LPD-8). The T-Bone, as 1156 was called, was on her last deployment. A short time after returning to Little Creek in 1971 she was transferred to the Spanish navy, and served there until being scrapped in 1994. She was a flat bottomed LST of the design that came into being during World War II and in rough seas she pitched and rolled like a crazed nymphomaniac. Dubuque was commissioned in 1967 and was still a reasonably new ship during this deployment. She is still in commission and has served in the Persian Gulf during the current unpleasantness.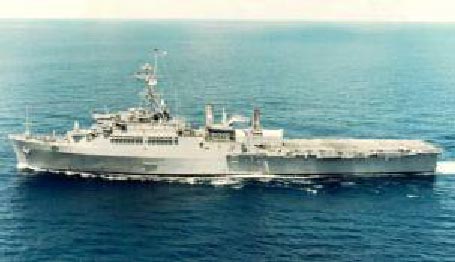 USS Dubuque (LPD-8)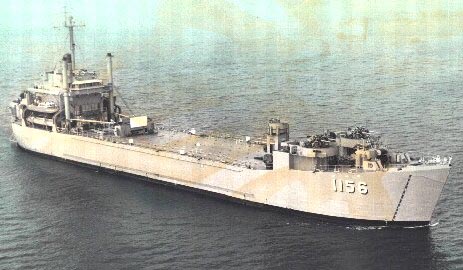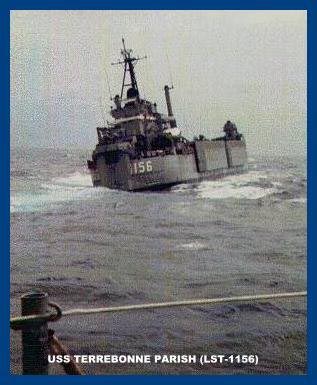 USS Terrebonne Parish (LST-1156) (Yikes!!)
During a port visit to Greece Dan and I pulled a liberty together and, being the urbane sophisticates that we were, got out of Piraeus, the port of Athens, and headed for higher ground to sample the subtleties of Greek culture. No waterfront bars for us. We were a cut above that (at least for this night). By pure chance we stumbled across a restaurant that served delicious food and had huge casks of domestic wines lining the walls, from which the waiters drew carafes to serve with the meals. The wine, as well as the food was great. After enjoying a fabulous repast, we slowly made our way back to the fleet landing thoroughly convinced that we were without peer when it came to picking restaurants in foreign ports.
After the Athens visit we landed at Navplion, a mountainous area southwest of the Greek capital, for an exercise with the Greek Marines and about three weeks of training. Although not pertinent to this story, the Navplion visit is worth several T.I.N.S. tales of its own. From there we went back to Naples, Italy with Phipps and I still convinced that nobody could judge restaurants like us.
With this sure knowledge we set out on a liberty to experience some more fine dining. We hit a couple of bars before finding a restaurant that looked good. We ordered and much to our consternation the food was terrible and the wine was rotgut. So much for our new found expertise. We were in a foul mood when we left the place and decided it was time to hit a few more bars, which we did with vigor. After rapidly losing our urbane sophistication, the waterfront bars were no longer off limits to us. Naples waterfront bars are best left to the imagination. After consuming a few too many Peroni beers, we made our way back toward the fleet landing. We were still hungry, so we stopped at a pizza joint figuring that since we were in Italy we should at least be able to get a decent pizza. It was absolutely the worst pizza I have ever eaten in my life. All I remember about its appearance after these 36 long years is that it was a pitiful, shriveled up little thing and there was oil floating on its surface. Thus we hadnít eaten anything on this night that didnít taste like shit. We had another Peroni, staggered out of the place, and promptly got our pockets picked. The thieves were probably in their late 20s or early 30s and were probably the same kids who picked my pocket during a Midshipman cruise in the summer of 1962. They were nicely dressed in coats and ties. They approached us as if wanting to ask a question, and in the process of bumping and running into us, picked our asses clean. Sons-of-bitches.
So we staggered back to the ships considerably the worse for wear with bad food and too much Italian rotgut beer in our bellies, no money in our wallets (the thieves were kind enough to throw back the wallets after emptying them) and no self respect. Itís a very good thing that we didnít try to line up some female companionship on this night. God knows what we would have ended up with, both from an appearance and disease perspective. Back hair was not unusual on some of the "ladies" in the waterfront bistros. We tried to keep the incident from Duff Riceís attention, but failed and, after a little rug dancing, probably ended up with the "Judgment" block on our fitness reports moved one space to the left.
Just another tale of liberty. This time in the Med to show that we could set new highs and lows ashore no matter what part of the world we were in--from Olongapo to Naples, it didnít matter.
Semper Fi,
Dirck Praeger sends