RISK TAKERS DISCUSS LIFE
Mofak
The article on the front page of the Antelope Valley Press 27Nov2007 is below. It was my honor to be on stage with Dick Rutan; he is one of the great aviators of all time. He is eccentric, but many single minded people are. It was quite an experience to be with them through the preflight months. I have a few stories that have never been told. The article notes that I was gratified to see what the pilots had done. What it really meant to say is that I was not impressed about what I had heard of the upcoming requirement for Edwards AFB to support the crew through the months leading up to an impossible flight. As it truly turned out, it was impossible; but somehow they did it. I kid you not, they were two of the greatest of aviation risk takers. They did the damned near impossible. Dick found himself arousing from sleep at the control in the middle of the Caribbean, and he didn't know who the hell he was; not to mention where the hell he was. All due to fatigue, of course.
On the ambulance after the landing, Dick said, "Who are all those thousands of people out there". The reply,"Dick, you are famous; the whole world has been following you, and you're on every headline. Those ten-thousand people out there are here for you. You're famous!!" And Dick literally cried in his state of weakening disbelief. Yes, I am not a spectator for anyone, but on that day I sat on that seat for my pilot father, now deceased, but a man whose love and dedication to aviation (and he was a pilot's pilot) was born in the days of Charles Lindbergh. Dad was the real thing. "The High And The Mighty" was really made about him. So, I sat as a proud spectator; one through whom my dad could live the experience, and he watched me greet the world's newest celebrity aviator on the tarmac, shake his hand, view the vast audience with him, and then proceed together to the ambulance for the magical ride to the hospital (Jeanna, every bit as important, went with us but in a second ambulance). Where was I? I was lost in reverie at that point.
The story goes on. As I said, I was in the ambulance that transported him to our hospital for observation. Many incredible things were uttered and learned during the few hours we had them with us at the hospital before the "party" began. Yes, I have never been a spectator, nor do I care to be one; if something is worth watching, then it is worth doing, and I'd rather do it myself. But, I couldn't do what Dick Rutan and Jeanna Yeager did; but I got the best front row seat available, and ultimately discharged them from the hospital, when, after the world news conference in an Edwards hanger, the pair balked at going back to my hospital with me (You would have too); and so there we were at odds in the near middle of an isolated intersection on base. I approached the passenger side where Dick sat in their Audi, and he sheepishly (and he probably hadn't been sheepish about anything for a long time) said, "Well, Doc, we don't like hospitals, and.. we don't think we are sick". And I said "So?"; knowing darned well what was coming. "Well, we don't want to go back", voiced the world's newest celebrity aviator.
Then it was my turn. I already knew I was defeated; and after all, they were in incredibly great shape for what they had been through. So, I faced defeat in full command. "Dick, you cannot leave the hospital that you have been admitted to until you have been properly discharged", said I. He looked glum. I continued, "So..., I am discharging you right here and now". We bid farewell with no particular fondness or intimacy, for there had been none. They were driven people, and lucky to be alive; and they knew it. They were brave souls who struggled for an ideal and found fame along the way. Yes, Mofak, I was proud to speak from the same podium along with Dick Rutan on 27 November 2007. I have had my own front seat, single seat, ride for life. It's the aviator way, the physician and surgeon way, and it's my way.
Semper Fi
Jim Ruffer
Two risk-takers relate life's big challenges
This story appeared in the Antelope Valley Press on Tuesday, November 27, 2007.
By DENNIS ANDERSON
Valley Press Editor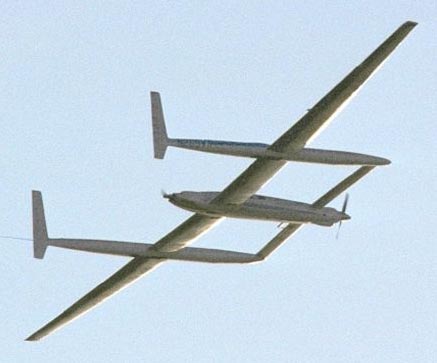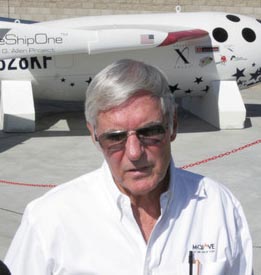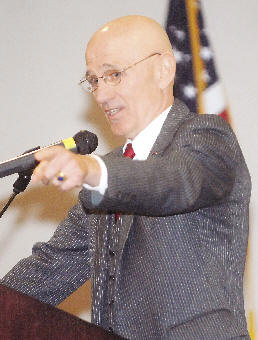 The Voyager in Flight Dick Rutan Jim Ruffer
---
LANCASTER - It was a small reunion of sorts that conjured memories of one of aviation's most exciting feats: the flight of the Voyager, nonstop, non-refueled, around the world.
High-flying company descended Monday at Lancaster Rotary West in the form of Dick Rutan, who piloted Voyager around the world with Jeana Yeager. Joining him on the speaker dais was Dr. Jim Ruffer, who got detailed from Edwards Air Force Base as the flight surgeon for the globe-girdling exploit. The day made for a kind of gathering of eagles: Ruffer is a retired military physician and Marine Corps fighter pilot, and Rutan, the man who flew Voyager, was an Air Force fighter pilot.
Speaking to more than 50 civic leaders, the men thanked Rotary for its efforts to support veterans and urged all efforts to care for a new generation of soldiers, sailors, airmen and Marines coming home in a new generation of war. Rutan urged real support to those in service "because the military is at war … and America is at the mall."
Ruffer echoed those blunt sentiments, telling his audience to "think of the heroes, the ones changed forever by combat, by war, and also to think of those others who may not have served in combat but who did serve. Think of the widow and the orphan, the injured and the veteran, and God bless them all."
So, sentiments of thanks to veterans, and still fresh thanksgiving about what it takes to get great things done in America and a world of challenge and hurt. Rutan recalled that the Voyager aircraft was "my brother Burt's brainchild." He also related that when his brother undertakes any design project, usually about 50% of the people whose views he respects tell him the thing he proposes to do is impossible. He said that unless Burt Rutan hears that, the project of building airplanes or spaceships probably is "not worth taking on."
That was what led to taking Voyager around the world on a tank of gas. A teriyaki lunch in an off-the-beaten track restaurant in Mojave and Burt Rutan's conception "that it was possible to fly around the world nonstop, non-refueled." And they got it going "without two nickels to rub together." Voyager's history-making flight that began Dec. 14, 1986, was the result "like my mother said, that if you can dream it, you can do it, and the only way to fail is if you quit.'"
Ruffer shared that the Voyager's voyage, ending shortly before Christmas 1986, curtailed Christmas leave for him from his duties as chief of flight medicine because of his duty as designated flight surgeon from Edwards Air Force Base. "I was told I couldn't go home for Christmas … 'You stay for Voyager.' "
When he realized the scope of the accomplishment of Voyager's team and of its pilot, "I got inspired," Ruffer said. "We got into the spirit when we met the pilots and had seen what they had done."
Ruffer turned to his fellow fighter pilot and said, "I apologize for not being more inspired until you got me inspired." He added, "Dick, Voyager was not something … Voyager is something. You did the incredible."
Achieving a project that seems incredible cannot be accomplished unless people realize that "nothing worthwhile is created without risk and daring," Dick Rutan said. That spirit infuses the work done at Mojave Air and Space Port. Dick Rutan said it was that spirit that prompted his brother to bypass NASA and develop an astronaut corps of his own to pilot SpaceShipOne, the first civilian manned rocket to reach the edge of space "right here in the Antelope Valley." Such deeds, he said, are accomplished with motivation created by inspiring leadership. He recalled President John F. Kennedy, "a young president who said we will put a man on the moon by the end of the decade. He wrote a check and we did it." Rutan quoted the pioneering rocket scientist Wernher Von Braun, who said "the greatest challenge is not the mechanical aspect; it is lacking the courage to try."
Ruffer, in sharing his military career, described his own personal journey from Marine Corps pilot to military physician with the Navy and Air Force, and even work done with the Army. It was a journey that took him from air war in Vietnam to medical service in the first Persian Gulf War, and a role in assisting the unit known to the public as the Delta Force in the rescue of an American prisoner from a Panama prison led by former dictator Manuel Noriega.
With daring comes risk, and Ruffer shared anecdote after anecdote, mourning the loss of friends in flight training, in flight test, in air combat, in desert warfare. And he shared his own grief for people caught in war, catastrophic illness and tyranny brought on through no act of their own. "I walked through blood in a prison in a country where Noriega was totally the dictator, a prison where they tore men apart."
In investigating deaths from aviation accidents, gore comes with the territory, but Ruffer said he understood his role was to tell next of kin simply that their kin was "badly bruised, and you don't need to see him."
Moving through such experience in the military prompted him to return on a humanitarian mission to Mexico where he began his medical training decades ago. And there, he found solace in the work, work that is its own daring journey. With sadness, he reflected on handling the pregnancy of a woman gored by a bull and finding that, in Mexico, decades pass but "nothing changes."
Leading him to reflect, "I am so grateful to be here."