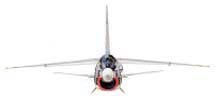 MARION CARL-FIGHTER PILOT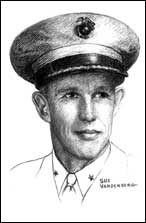 Major General Hal Vincent, known as Prince Hal by his admirers, passed this story to me. I consider it worthwhile reading for all aviators. Marion Carl, Hal Vincent and Bob Norton always exhibited great courage and superb flying ability throughout their successful years, in war and peace, in service to our Great Nation. ~
The year was 1959. It was MCAS El Toro, California and VMF 334 was the first West Coast squadron to fly the Chance Vought F8U-l Crusader. Because of the hard luck the Navy had with the Ensign Killer F7U Cutlass built by the same firm, the Crusader was called "Vought's last Chance!" By the way, Prince Hal also flew fifty hours of test at Pax River on the Cutlass. Hal's comments were, "The F7U-3M was a dog! Seemed like there was a failure or an emergency on nearly every test flight." Whereas the Crusader proved to be outstanding in both air to air and air to ground combat operations.
Marine Captains Hal Vincent and Bob Norton were best friends and pilots in VMF-334. They applied for a Cross Country Flight to Maxwell Air Force Base, Montgomery, Alabama to visit Colonel Marion Carl, who was there with his wife while attending the top level Air Force Command School. Hal Vincent knew Colonel Marion Carl from his visits to Pax River and his interest in the Test Pilot work at NAS Patuxent River, MD Flight Test, where Hal had the original test project on the YF8U-1 airplane. Marion Carl worked Flight Test at Pax River out of the same Test Office on two separate previous tours. Bob Norton knew Marion Carl when he was his Marine Air Group 33 Commander at El Toro prior to going to Maxwell and had done well dog fighting against Carl in the Cougar aircraft.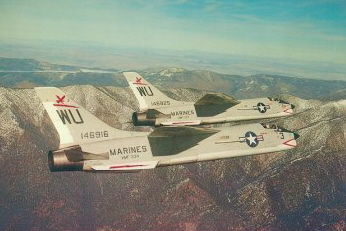 The pilots briefed the route of flight, checked the weather and took off on their cross country with a planned refueling stop at Navy Dallas. Approaching Dallas, the stalwart pilots determined that they might have enough fuel to make it to Montgomery. With some divert fields between Dallas and Montgomery, they decided to press on. Every few minutes the pilots would recheck their fuel levels. When Norton's Crusader indicated lower on fuel than Vincent's Crusader, the lead was passed to him. As they approached the let down point for a maximum range/minimum fuel descent, Hal retook the lead and they proceeded to land safely at Maxwell Air Base with about 400 lbs of fuel in each aircraft. After the cross country pilots checked into the Bachelor Officer Quarters, Edna Carl called and said, "You are invited to dinner with us at the Air Force Club and to a dance there afterward."
Captain Bob Norton had forgotten his dress shoes and went to the club and the dance in his flight boots. Hal and Bob met Colonel and Mrs. Carl at the club for a nice dinner with lots of shooting of wristwatches and rehashing past flying episodes. Then the music started. "Mister nice guy, Bob Norton, was asked for a dance by Edna. Bob showed her his boots, but Edna, who was an absolutely beautiful and lovely lady, insisted on dancing with Bob--boots and all." Relates Hal.
Later in the evening Colonel Carl, who had never flown the Crusader, asked if he could fly Prince Hal's F8 the next morning. What could Hal say to this famous Marine Aviator but "Yes Sir."
Weather the next morning turned out to be overcast, about 700 feet, and 2 miles in mist/rain. It was certainly not a normal Familiarization Flight kind of day. But Marion Carl would not have been a normal Fam pilot in any aircraft. Captain Vincent showed Colonel Carl how to start. Colonel Carl told Hal to sit by the radio in Base Operations in case any questions needed an answer during the flight. Colonel Carl boomed the afterburner and roared down the runway on a great takeoff, transitioned the wing to the fuselage, locked it and got the gear up before disappearing into the goo. There was no radio call for some 45 minutes. Finally, Hal became concerned and asked on the radio, "Colonel Carl, how are things going?".
Colonel Carl answered, "Everything is fine. I'm on the way back."
Hal recalls the Crusader recovery, "By then a majority of the Air Force pilots on the base and from the school had heard about this hot shot, well known Marine pilot and his flight in the new and high performance F8 Crusader jet. They were hanging out of the windows, standing under umbrellas, sitting in cars--all waiting for the crash. Well, Marion Carl broke out about 700 feet, made a high speed dash down the runway, a screaming 6 G break, and a turn downwind for a perfect landing. The early F8 had no angle of attack and Marion did as briefed, in that, he used his gunsight with 120 mils on the horizon for the perfect touch down attitude. Bob Norton and I were quite proud of Marion Carl; as a pilot, as a personal friend, and as a Marine."
Yes! Marion Carl, Fighter Pilot, was the Greatest.
All The Best. Cheers!
Hal

From: F4SPOOK40
Sent: Wednesday, April 18, 2007 7:57 AM
To: hwvincent
Subject: Re: Marion Carl F8 story.



Great story Hal..Marion Carl was my Group CO in MAG-33 at El Toro just prior to his going to school at Maxwell. I had also checked him out (told him how to start the airplane) in an F9F-8 about 2 years prior. Believe he may have been the G-3 at that time. For some reason he had asked for me...weather was overcast about one mile vis, tops at 35,000. He was going to Portland, Oregon to give a speech. He put his dress blues in the nose, did a quick walk around and had me walk him through the start procedures. He took off in the goo, smooth as silk, and returned Sunday afternoon. Portland had about 500 and 1/2 mile when he filed and landed. An amazing gentleman and superb pilot.

You are right..they were great years and I would go back and do it all over again! Maybe the second time around I could beat you at ACM but I doubt it!

~~~~~~~~~~~~~~~~~~~~~~~~~~~~~~~~~~~