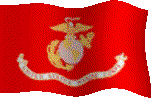 ADVENTURES IN ANNUAL PHYSICALS
or "You're All Heart, Doc."
As you know from a previous T.I.N.S. tale, I was assigned as the Officer in Charge of the Nucleus Landing Force Staff on USS Blue Ridge (LCC-19) in 1976. The NLFS was a small Marine unit whose function was to provide a permanent landing force presence on this Amphibious Command Ship, since a MAB or MAF staff was not always aboard. You know the details from my earlier story.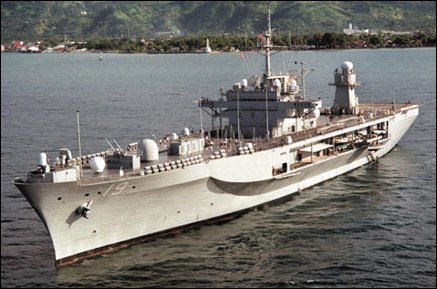 The officer I relieved was Maj. Al Casares, a fine Marine officer and the first OIC of the Blue Ridge NLFS. He is also a funny guy, and he related this story to me about his first annual physical examination after age 40; the time in life when you receive your first electrocardiogram, or EKG, during your annual physical. If you have never received an EKG then this story might go right over your head. But if only old farts like us read these T.I.N.S. tales, then we probably all qualify.
By the way, an unknowing young civilian asked me who really cared about all these T.I.N.S. tales that appeared on my computer screen from time to time, and I told him that they weren't written for him. They were written for the old Sea Dogs and Devil Dogs who had lived them, and we considered them to be treasures.
Anyway, on with the story. Blue Ridge was home-ported at Naval Station, San Diego, California in my day. She is now out of Yokosuka, Japan as the U. S. Navy 7th Fleet flagship. The Marines on Blue Ridge reported to the Marine Corps Recruit Depot, San Diego for annual physicals. When Al turned 40, he ambled over to the Dispensary at MCRD. He went through all the physical exam routines that we had become so used to over our years as Marines; blood pressure, pulse, piss in a bottle, finger wave, look down your throat, draw blood, etc., etc. After all this was finished he reported to the "heart" room for his very first EKG.
The Navy Corpsman in charge instructed Al as follows: "Good afternoon, sir. Please go into room 120 and remove your shoes and socks, your shirt and skivvy shirt, drop your trousers and skivvy shorts down around your knees, lay on the table and the Corpsman will be with you in a moment." Al did as instructed.
A few minutes later a female Navy Corpsman walked into the room and started hooking Al up to all the elements required for an EKG…arms, ankles, and chest. After she got him all hooked up and started to run the machine Al asked her. "Doc, why am I laying here with my trousers and skivvy shorts around my knees?" Without skipping a beat or being rattled in the least she replied, "Major, I have no idea why you have your trousers and skivvy shorts down around your knees." She continued with the EKG, and of course Al could do nothing about pulling up his pants until the exam was over.
Immediately after the exam, Al was chasing all over the MCRD dispensary with his trousers up by this time, bare chested and barefooted, looking for the Corpsman in charge who had instructed him. Of course he was nowhere to be found. Al gave the situation some thought after he had calmed down and, considering it was his first EKG and the Corpsman knew it, and considering the female Doc's calm demeanor upon walking in on a patient with his pants down, he figured he wasn't the first victim of this subterfuge.
I have often wondered if the results of that EKG became skewed after Al discovered that he had been the dupe in a practical joke. Never a dull moment in the American Marines-- in peace or war.
Semper Fidelis,
Dirck Praeger sends