CRAZY CLARK
-Or
"You shouldn't jaywalk even if you are the Commanding General."
Duty at Parris Island in 1965-66 was pretty intense since we were building up for the Vietnam War. Recruit training changed from twelve to eight weeks early in my tour and everything seemed to speed up to ensure that the product we were turning out could maintain the standards of the Marine Corps. We worked five-and-a-half to six days a week with Sundays off unless the weather caused postponements at the rifle range. If that happened days off disappeared and we fired on Sundays as well. During one stretch I went over a month without a day off. In spite of the hectic schedule there were humorous interludes that occurred often enough to keep you on balance.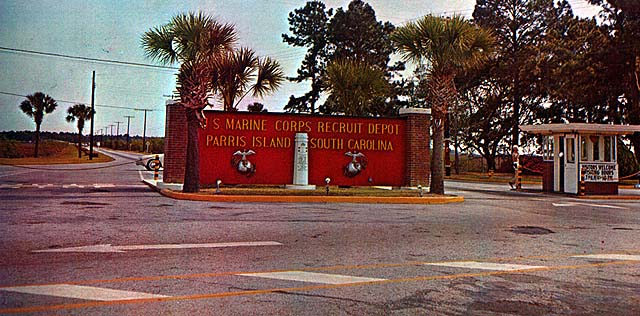 MCRD Main Gate and the Causeway leading to the Island-1965
My assignment as a Series Commander had me supervising 12 Drill Instructors who, in turn, were training four platoons of recruits. These four platoons comprised a Series. This organization trained together throughout their stay on Parris Island. These DIs were some of the finest NCOs I was ever associated with during a career in the Marine Corps. The great majority of NCOs I had seen during my brief career had carried one of the several infantry Military Occupational Specialties, but the DIs came from the full spectrum of MOSs the Marine Corps had to offer. I had everything from machine gunners to aviation mechanics to a General Officer's steward in my series. They were all hand picked top notch Marines.

B-Range, Weapons Training Battalion, PISC
I was minimally involved in the training of recruits. That was the DIs job, and their effectiveness at that job is one of the secrets of our success as Marines. My job was to ensure that the DIs followed the recruit training regulations.
This story is about one of the Drill Instructors in my Series, Sgt "Crazy" Clark. I don't remember his first name, although Arthur seems to stand out in my mind. But that doesn't matter. He will always be "Crazy" Clark to me. He was a fiery red-headed Marine and an excellent DI.
I later found out that he had a chaplain's cross insignia in his collection of ribbons and badges and rank insignia which he would employ when a recruit from another platoon wanted to see the chaplain because things were going rough for him. He would attach the cross to his collar and the recalcitrant recruit's DI would bring him to see the "chaplain". The recruit would not know that chaplains are commissioned officers at this early stage of their service. All they would see was the cross on Crazy's collar. I doubt Crazy's methods of counseling recruits would pass muster within the Navy Chaplain Corps, but it seemed to be effective. At least fewer recruits requested audiences with chaplains.
One day I was sitting in my Company Commander's office. Captain Dave Stefansson was the India Company Commander and he shared an office with Master Sergeant Fritz Werner, the Company Chief Drill Instructor (The CDI was kind of like the First Sergeant in a rifle company). There was a knock on the door. Fritz Werner told the knocker to enter. In stepped Crazy Clark who centered himself at attention on Dave's desk, saying "Sir, Sgt Clark reporting to the Company Commander." Dave asked Crazy what he wanted and Sgt Clark said, "Sir, I just ran over General Masters."
You can imagine the scene that followed in Dave's office. Crazy Clark was as agitated as the rest of us, and it took a few minutes to get everyone settled down to the point where we could find out what had happened. The Commanding General of MCRD, Parris Island was MajGen James M. "Jungle Jim" Masters, a World War II and Korean War veteran who had been awarded the Navy Cross. His quarters on the island were adjacent to the commissary. Sgt Clark was on his way to the commissary and was driving slowly past the CG's quarters. The General was walking along the sidewalk in front of his house, his back to Crazy, and suddenly made a sharp left turn into the street. The General and Crazy's right front fender met as he stepped into the street and down he went. Crazy saw him disappear from sight as he slammed on his brakes, and he knew exactly who it was he had hit. He jumped from his car and ran around to the front only to find General Masters sitting on the ground brushing himself off. He was unhurt and Sgt Clark helped him to his feet uttering multiple and rapid apologies. Jungle Jim asked him his name and unit, and after ensuring that he was uninjured, sent Crazy on his way. Crazy immediately proceeded to India Company and reported to Dave Stefansson's office.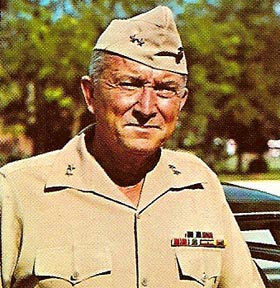 Major General "Jungle Jim" Masters, CG, MCRD, Parris Island
Crazy was beside himself with worry since Jungle Jim made no effort to admit that the whole incident was his own fault, which it obviously was. Crazy had visions of office hours or a court martial floating by his eyes, but we assured him that nothing would probably happen. We calmed him down and Dave made a phone call to the general's office to see if there was any fallout from the incident. Nobody there was aware that anything had happened. We waited until the next day and nothing was said, and we never heard another thing about it.
During the spring of 1966 I received orders to the Marine Detachment, USS Ranger (CVA-61) and departed Parris Island after a year. In March of 1965 a sizable group of Lieutenants arrived on the island from the 2nd Marine Division at Camp Lejeune, N.C. to prepare for the buildup for the Vietnam War. Most of that group left after a year on the island and headed for Vietnam, or as in my case, the waters off Vietnam, and were replaced by officers returning from a year's combat tour. After a year aboard Ranger I finally made it into Vietnam, leaving there for the last time in August 1968.
Time went on and in the late 1970s I found myself assigned to the Landing Force Training Command, Pacific at Naval Amphibious Base, Coronado (one of the best kept secrets in the Department of the Navy, by the way). I received notice that I was to be audited by the Internal Revenue Service and to report to their San Diego office on such-and-such a date. I did as ordered, and upon arrival ran into First Lieutenant "Crazy" Clark in the reception area, who was also being audited. Maybe he had tried to deduct the cost of the chaplain insignia and was being taken to task. I was being nailed for deducting the cost of a sitter for the Marine Corps Birthday Ball. When I showed the agent my orders to participate in the cake cutting ceremony, I was exonerated. Anyway, Crazy and I had a mini-reunion on the spot. It was good to see him again, and I was glad to see that he had prospered as a Marine. He was among the best, as were the solid majority of Drill Instructors with whom I was privileged to serve.
Thus ends another story of the exciting and varied adventures of the U.S. Marines.
Semper Fi,
Dirck Praeger
sends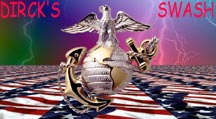 Click the Globe to Go Back.