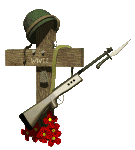 A REMEMBRANCE OF HEROES AND MENTORS
"Only the good die young"..or, Only by the grace of God do I live!
I noticed a photo on Mofak's web site (USMC Photos 4) a photo of a group of flight instructors standing in front of a T-28 at Whiting Field. Among that group is Lee Blankenship. How well did you know Lee? Did you ever have a beer with him and marvel at how quickly he could make that beer disappear? I remember when people used to buy him beers just to watch him quaff them down in one quick gulp. Mofak answered by putting me to TINS Tales #12 where the Friday Happy Hours were memorialized by Champion Blankenship!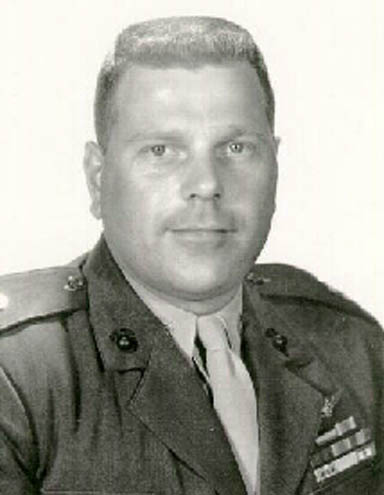 I first met Captain, later Major, Lee Blankenship when I was stationed at MCAS El Toro in 1963-64. He was XO of H&HS and I was a Sergeant (Squadron Training NCO) eagerly awaiting orders to attend Drill Instructor School. A mustang himself, he took a genuine interest in me and encouraged me to apply for a commission under the Meritorious NCO Program. After I'd appeared before the Air Station screening board and came out #1, he presented me with a copy of the Barnes and Noble Graduate Record Exam Prep Book so that I could prepare for the Officer Selection Test that was a part of the screening process. Each night after that my wife would send me to the bedroom to study for several hours, out of earshot from the noise made by our two young daughters playing in the living room of our apartment. Some months later I took the test under the proctorship of the Base Education Officer and was surprised to find that I was very familiar with the subjects it covered. I left the examination room feeling fairly confident, thanks to Lee Blankenship. Several months later, while TAD to DI School, I was notified I was one of twenty NCOs selected Corps-wide to attend the 37th OCC and I had ten days to get to Quantico to start the course.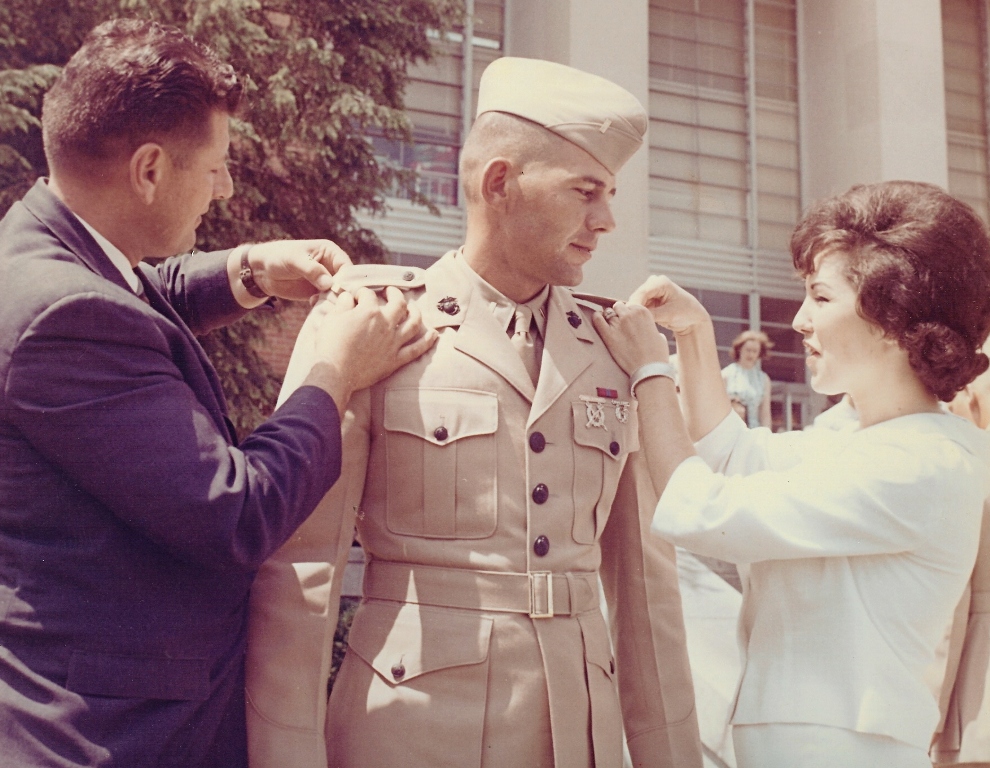 Commissioned fourteen weeks later, my wife and my father were there at Little Hall in Quantico to pin on my new gold bars. Also there was White House photographer Cecil Stoughton who took some photos. Cecil and my father had served together in the Army Air Corps at Hickam Field, Oahu, Hawaii, back in 1946-47 where I attended kindergarten and first grade, and had become good friends. Cecil is the photographer who took the now famous photograph of LBJ taking the oath of office standing next to Jackie Kennedy aboard Air Force One at Love Field in Dallas, the afternoon of 22 November 1963.
The evening of my commissioning, I called Major Blankenship to thank him for all his encouragement and support. I told him I wanted to buy him a beer or two at an O'Club whenever we found ourselves on the same coast.
After TBS, I reported to the 2ndMarDiv at Camp Lejeune, albeit I would spend precious little time there. Most of it was spent at Guantanamo, at the National Matches at Camp Perry, Ohio, and aboard ship as a part of the Ground Combat Element of an Amphibious Ready Group in the Caribbean. At the end of those seventeen months I received orders to WestPac (read Vietnam). As it turned out both Lee Blankenship and I crossed the Pacific at the same time although in different directions. Thirteen months later I returned to CONUS and was assigned to RTR at MCRD, San Diego. There were long work days and as Director DI School, I had a six day work week. My family rarely saw me and, though I talked to him by phone, there was no time to get together with Lee for that beer. Before I knew it, he was off again for another tour in Vietnam. During the first week of April 1969, I learned that Lee and his co-pilot had been killed (1 April '69) flying a CH-46 with HMM-263. They were attempting to insert a recon team southwest of Da Nang.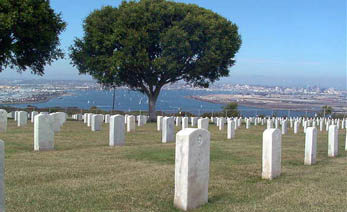 Nowadays, my wife and I only get down to San Diego about once a year, but when we do we almost always drive out to Point Loma to visit some friends; friends who are eternal residents at Fort Rosecrans National Cemetery. Brig. Gen. Pete Rowe is there. Pete and I were young Captains in TF Xray at Phu Bai in 1968. After giving a evening speech in San Diego, Pete was on his way home to Orange County when he stopped on I-5 to help a woman with a flat tire. An errant eighteen-wheeler drifted onto the shoulder and Pete died instantly. PFC Gerald John Brothers is there. He was one of eleven Charlie Company KIA's on Operation Medina (October 1967). There were seventy-five Charlie company WIA's on Medina as well. I was one of them, hit twice within about twenty minutes. Brothers fell close to where I was when I was hit. GySgt William H. Lewis, my senior drill instructor, is also there. His grave is on the high ground on the southwest end of the cemetery. On a clear day you can see MCRD from there and I'm sure he's keeping an eye on things, making certain we're still making Marines like he used to. There are others buried in that cemetery with whom I served, but principal among them all is Lee Blankenship. I was there the day Lee was buried. So was a very large contingent of officers from El Toro and LTA. The 3rdMAW band was there too. On a visit in the mid-nineties we noted that Lee's wife, Jean, has joined him there.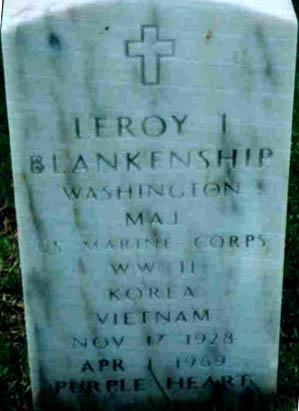 Near the top of my list of lifelong regrets is that I never got the chance to buy Lee Blankenship that beer I promised him. Were it not for him, my life would have turned out very much different. God bless you, Lee, and if I can sneak it past St. Peter, I'll bring that beer with me…
Semper Fi,
Jack Ruffer

Click patch-return to Jack Ruffer