Being on the back side of the proverbial power curve, I had begun to throw out years of accumulated important now seemingly worthless papers. The dozens of boxes are disappearing but not without some remembrances, sadness and nostalgia.
While sorting through a box of Vietnam memorabilia and selecting items for disposal, a discolored envelope caught my eye. "Free" was written in long hand just above the postmark which read, "Ward A 4, Naval Hospital St. Albans, Jamaica, N.Y. Oct 31, 1967." The letter was from Captain Robert L. Beavis USMC, who had been an F-8 Crusader pilot in the VMF(AW) 235 Death Angels at Da Nang, Vietnam in 1966-67.
I removed the letter from the envelope with reverence and extra care. As though the message from the past might disintegrate into dust and I would lose a precious message. My mind raced back to those glorious and exciting days of our war when we were young, reckless and bullet proof. Beaver launched with me many times and always flew the mission in a fearless fighter pilot fashion. Being a bachelor, Beaver took imperfect planes and dangerous risks other pilots might have declined. He had a permanent wide grin on his face and was chock full of good humored fun with surprises, jokes and tricks for all hands.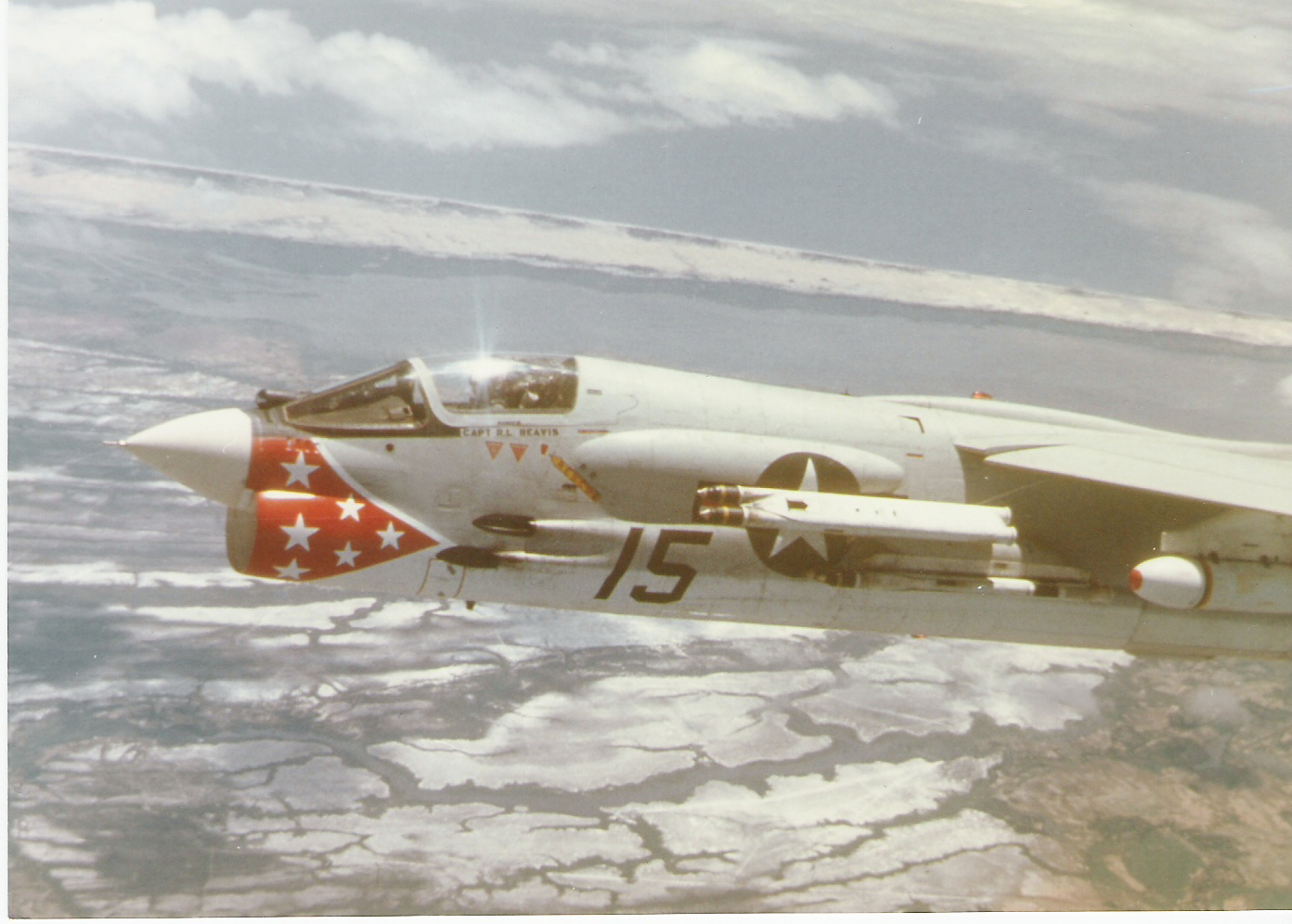 Being a lovable guy, Beaver was the only member of the military I knew of who had a civilian young lady visitor fly into Da Nang during peak war action. The cute blonde, bespectacled Librarian for Naha AB, Okinawa stole or somehow hitched a ride into Vietnam in an Air Force C-130. The Naval Investigative Service, apparently suspecting a spy, commenced an immediate inquiry into the lady's credentials while Colonel Art Schmaegle the MAG-11 Commanding Officer was waiting for Beaver at the Death Angel flight line when he taxied into the aircraft revetments. Beaver was returning from a combat mission against the North Vietnamese Communists and became more worried about what the Group skipper wanted than any time during the combat sortie. Beaver climbed down the side of the Crusader with Colonel Schmaegle booming questions and demanding answers about an unauthorized visitor awaiting Beaver. The NIS and Colonel Schmaegle ordered Beaver to get the sweet misguided young thing out of Da Nang immediately if not sooner. Beaver hurried to the hootch area, hugged his happy visitor and then right away began trying to arrange her transportation out of Vietnam. Naturally, no passenger type airplanes were available for a couple of days so the Librarian remained at Da Nang with her Beaver longer than the authorities wanted. You can see that Beaver did have some good luck!

My heart was heavy in late August 1967 when I learned Beaver had suffered some life threatening wounds. Especially worrisome for me was receiving the report that he had been emergency medivacked out of Vietnam. We were told by the Quacks that "even if Beaver survived, his flying days were over." After learning of Beaver's whereabouts, I sent him a note saying how his absence from the North Vietnamese made them so much fonder of him. I said things like, "All of us in Vietnam envied him with his shortened Vietnam tour and were jealous of all the stateside ass he was getting."

Here is the letter Beaver sent back:

<<

30 October 1967

Major MOFAK,

Thanks for the cheery note. Had my last operation last week and now am on final for recovery. Should be about three to four more weeks here at the hospital and then a few weeks convalescent leave. After that it will be back to full duty and a flying status again. I am a very lucky guy!

Spoke with the "Iggle" a few weeks back and it looks like I will be going to Beaufort if he can swing it. Heard Norm Marshall will be going Air Force Exchange out at Luke AFB . Sounds like a good tour.

The cruise book came in a few weeks ago and turned out fairly well.

It should serve as a refresher for the good things that are worth remembering from over there. Wish we could get the original guys that flew in country back together again. That surely would have to have been my best squadron.

Bought myself a 66 Corvette Convertible to run around in once I get out of here. Figured I owed myself something I guess, anyhow I love it-doesn't handle quite as well as the F8 but is a lot of fun to drive.

My gear is still somewhere between Camp Carroll and St Albans so am beginning to become concerned. Next Friday is the 10th of Nov and the Birthday Ball, fortunately I have my Blues at home and will be able to make my presence known. Haven't missed one yet.

Have been trying to follow the war as closely as possible but what news we do receive is very depressing. I felt badly that I didn't get a chance to finish out my tour and inflict a little more damage on those bastards but the way it looks I will get another chance next year.

Take care of yourself Major. Again I am fine.

See you on button ONE.

Beaver>>

The letter raised our morale. We were elated that Beaver's pilot days were not over. In fact, they were just beginning. Like the combat Veteran he was, Beaver fought for a complete recovery and, after several months of medical treatment and rehabilitation, he was transferred to the Second Marine Aircraft Wing. He worked his way back to Class 1 and once again was put on full flight status. Beaver later transferred to the Marine Reserves and separated from active duty status. Soon thereafter he climbed back into a beloved F-8 Crusader jet. Beaver continued to fly the latest tactical jets until retiring from the Reserves a few years back as a full bird Colonel.

Concurrent with his Marine Corps Reserve flying, Beaver flew jumbo jets as a commercial passenger airline Captain for a major carrier until his retirement. Beaver is still flying jets in Corporate Aviation. Although Beaver has occasional medical complications from the combat wounds he suffered in Vietnam he enjoys his retired life and the memories of his days of heroism as a Marine Corps Fighter Pilot..

Thanks Beaver, for your great contribution to our Corps, our Country, and the free world.

Semper Fidelis!

~~~~~~~

BEAVER POSTSCRIPT:

Robert L. Beavis, Colonel, US Marine Corps Reserve, Retired, requested that these sentences be added to this story in order to clarify the events that brought him back to full flight status.

When I finally was released from the St Albans Naval Hospital and awaiting orders the Marines and Navy needed someone to be President of the Court Martial Boards at the Brooklyn Navy Yard, NYC. So, I performed General Courts for 2-3 weeks until getting my orders to MCAS Cherry Point and the Second MAW. Major Rocky Plant was the Wing G-1 and stashed me in H&MS-14 until I could get my Flight Physical passed. I was a Class III Naval Aviator for a while then made it through some Boards and got my Class II which allowed me to fulfill the cockpit duties of a co-pilot. I was allowed to fly the C-117/47, the Piper Aztec U-11 and the TA-4 Skyhawk jets.

Then , suddenly, I passed my Class I flight physical and moved to the front seat in TA-4/ T- 33, T-1 jets. The best occurrence of all was when, good to his word, Rocky Plant placed me into the F-4 Phantom at VMFAT-201 and from there over to operational squadron VMFA-513.

Barbara and I were married in August of 1968 and in the spring of '69 made our move to the USMC Reserves and civilian life. It was great to be back in the Crusader cockpit again at NAS Willow Grove, PA. I Finished up with a little over 30 years of good time with the Marines and even receive a small pension since my 60th birthday.

When I left active Marine duty, United Airlines gave me an interview and a job which I retired from after almost 34 years. Our Daughter

is a cool lady living in Colorado Springs and volunteers at the local VA hospital.

Our two sons fly for the USCG: Pete was in HU-25's Falcons out of Mobile, Al. and Paul in C-130's at Sacramento, Ca.

Both boys are now in Elizabeth City, NC flying C-130 J & H's.

Whatever little success came my way was thanks to Marines like yourself, Rocky Plant and Norm Marshall who gave me guidance both by word and deeds. You became my heroes and role models and are still fine examples for me to follow even to this day. I owe you all much more than words can say.

I will pull out the '66-67 cruise book for VMF(AW)-235 and grab a glass of cheer. You know there will be a toast to all of you as I remember the good things that happened to us in those far away places during those years.

Semper Fi

Beaver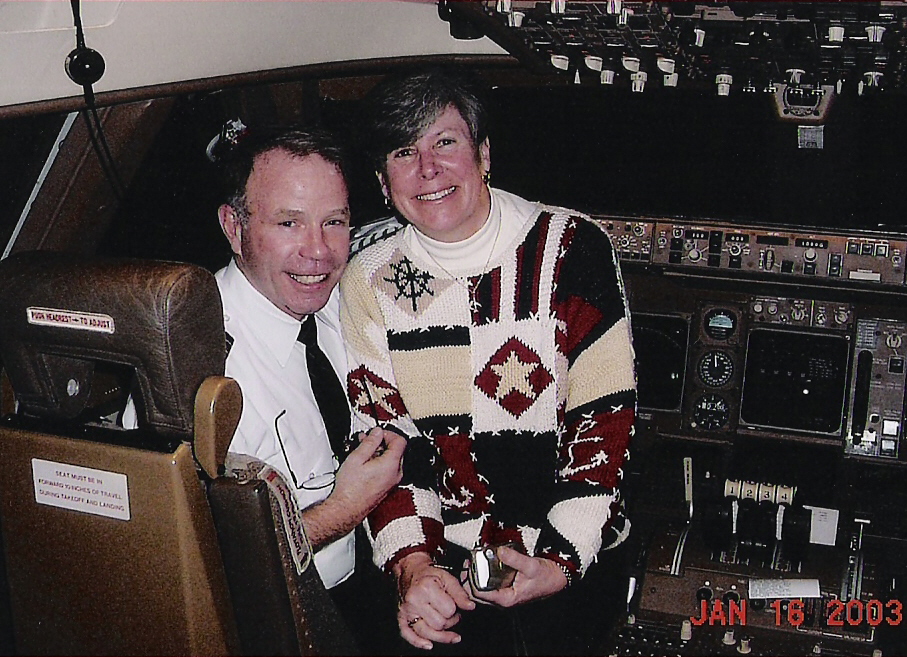 Last Flight
~~~~~~~~~~~~~~~~~~~
Mofak
Back to Back We Face the Past
Donald Cathcart LtCol USMC Ret.