Navy-Notre Dame 1962
-Or, how did this friendship ever last?
I have known Dick Williams since September 1959…almost 50 years. He is my oldest and dearest friend. We both came from Kansas when we entered the U.S. Naval Academy on 7 July 1959. After Plebe summer we were assigned to the same company, and during our last two years at the academy we were room mates. We stayed in touch after graduation from USNA in June 1963 even though I became a Marine and went to Quantico for basic school, and he went Navy and joined a destroyer on the west coast. In 1964 he drove over 450 miles from San Diego to the Marine Corps Mountain Warfare Training Center near Bridgeport, California where I was going to school just for an overnight visit. In November 1966 I was stationed aboard USS Ranger (CVA-61) in dry dock in Bremerton, Washington, and travelled to Long Beach, California to act as Dick's best man at his wedding. We are both long retired from the Navy and Marines, but we both live in the Washington, D.C. area and are in almost daily contact. We have always enjoyed each other's company and will be friends for life. But there was one day in 1962, our First Class year, that Dick wished that he hadn't known me.
On 3 November 1962 Navy played Notre Dame in Philadelphia. It was a nasty, windy, rainy day, but the entire Brigade of Midshipmen boarded buses that morning and departed Annapolis for the football game. Because of the weather the uniform was "Service Dress Blue, carry raingear." Our raingear at that time was a heavy cape that was draped over the shoulders and hung below the knees. It was almost like a poncho, but it buttoned up the front and had two slits in the sides so you could stick your arms out. It resembled the slickers that cowboys wore on the range. We arrived at Municipal Stadium in South Philly. I can't remember if we marched onto the field or not. We probably didn't because of the weather. At game time the wind was blowing hard and the rain blew horizontally, soaking everything in sight.
Dick and I had the brilliant idea that, because we would be wearing raingear, that we could sneak a pint of Early Times bourbon into the stadium and sneak drinks under the rain capes. Drinking was a serious violation at USNA back then. You could drink when away from the Academy, but during games was verboten. We asked a Moak (the term for janitor at USNA) to buy us the whiskey and he came through…as usual. During the game as the wind and rain lashed us unmercifully, we would sneak drinks of the rotgut Early Times. By game's end the bottle was empty, and we were feeling very little pain.
Navy lost the game 20-12. The weather was too much…even for Roger Staubach and company. After singing "Navy Blue and Gold" we were turned loose for Philadelphia liberty and instructed on what time to catch the buses back to Annapolis. A bunch of classmates from the 6th Company, including the tipsy Praeger and Williams, caught a city bus to downtown and headed for our favorite post game restaurant, The Italian Grotto, for dinner. It was kind of a long trip and my bladder was about to explode. If I didn't get to a head pretty soon I was in deep trouble. We finally disembarked from the bus into the driving rain, and I could wait no longer. I whipped it out and relieved myself right there on a busy Philadelphia street…under my raingear. Dick noticed the relieved look on my face and saw the steam rising from the sidewalk. I don't think I got too much on the inside of the rain cape, but by this time we were all soaked anyway, so it didn't matter that much.
We lurched into the Italian Grotto, ordered lasagna, and poured some good Chianti on top of the Early Times. After a sumptuous dinner washed down with the wine, Dick and I decided to visit another of our favorite places in Philadelphia, discovered after attending many football games in that city over the past four years, McGillin's Ale House. It was within easy walking…or staggering…distance from the restaurant, so off we went, reeling down the street in the rain.
We ordered a pitcher of beer and sailed for a table in a back room…a good choice as it turned out…not too many customers back there. We piled the beer on top of the Chianti and Early Times. I laid my head on my arms on the table next to the empty pitcher, and suddenly, I didn't feel so hot. I started to get up and go to the head, but it was too late. As my head came up I let loose with a stream of beer, lasagna, wine and Early Times that bounced off the table and hit Dick square in the chest. I looked on in horror as the mess dripped off the front of his Service Dress Blue blouse, chunks hanging on the gold buttons and the anchors on the lapels. I started apologizing profusely and dabbing at his uniform with a handkerchief. He grabbed me and dragged me out the back door of McGillin's into an alley and we vacated the premises as fast as we could.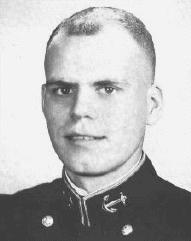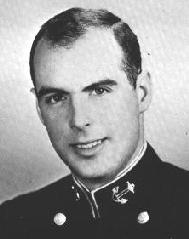 The Puker… …and the Pukee
We decided that we had better call it a night and go back to the buses for the trip back to Annapolis. We boarded the next bus to leave and were given a wide berth because of the sight and smell of us…puke dripping off my chin, and off Dick's blouse. I think we had about half of the bus to ourselves…the back half.
The rest of the trip is hazy in my memory. I can't recall what we did after we returned to Bancroft Hall other than probably cleaning up as best we could and hitting the sack. As I look back on this incident, the thing I remember most was the calm and decorous manner that Dick affected after I had unloaded on him. He didn't get mad, he didn't beat the shit out of me (as I surely deserved), and he did his best to get me out of harm's way as quickly as he could. As the saying goes…God watches out for children, fools, drunks and the United States. So does Dick Williams. This is just one reason he remains one of the best friends I've ever had. But I'll bet he wishes that he hadn't known me on that day.
Semper Fi,
Dirck Praeger sends