THE GLOBE AND LAUREL
Marines need to be around other Marines
I just finished reading the best biography ever written about Chesty Puller. The book is entitled "Chesty, The story of LtGen Lewis B. Puller, USMC". It was written by Col Jon Hoffman, USMCR (Ret.) who just happens to be a parishioner at my church, St Raymond of Penafort Roman Catholic Church in Springfield, Virginia.
Chesty was medically retired from the Marine Corps in 1955 after suffering a mild stroke. He fought hard to remain on active duty, but was unsuccessful. He maintained his love of the Marine Corps, but held some bitterness for several senior officers who he thought wanted him out of the Corps. He retired to Saluda, Virginia, a town of several hundred which was his wife's hometown. He had very little contact with Marines after his retirement although a number would stop by Saluda to visit and were always welcome.
During the 1960 annual reunion of the 1st Marine Division Association he was introduced as a speaker, and the ovation almost brought the house down. After his speech he held court at the head table for over two hours. Jon Hoffman says that those two hours were probably the highlight of Chesty's retirement.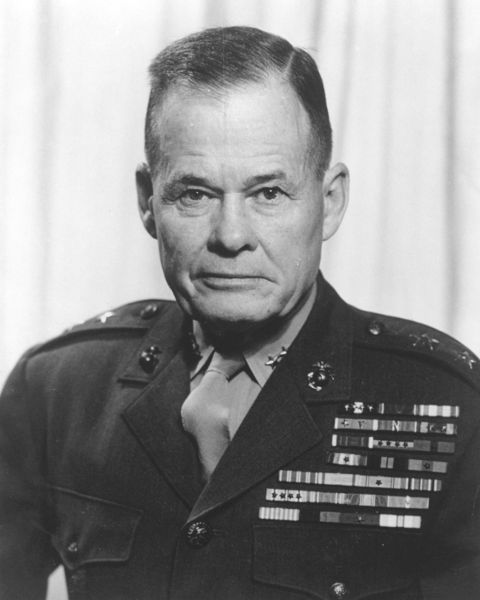 LtGen Lewis B. "Chesty" Puller, USMC
That got me thinking. How sad that Chesty, the most heroic and beloved Marine of all, was deprived of association with Marines after he retired. I have not been deprived of that precious association. The main reason I have not been so deprived is because we have the Globe and Laurel restaurant at Quantico. That is where we all go for our shot of Semper Fidelis. That is where Maj Rick Spooner, USMC (Ret.), the proprieter, has created an atmosphere that draws former and retired Marines to him and his restaurant with a magnetic force. That is where we can be around each other. The need to be around other Marines is something very hard to explain to those who have never worn the uniform. We need to be around people like us. We are a very special breed who is generally misunderstood by the general populace. Although active duty Marines frequent the Globe and Laurel, it is mostly the retired and former Marines who seek the restaurant's unique and special atmosphere that takes you back to those days that were the best of your life, and when your actions, in concert with others like you, were the most noble and meaningful of your life.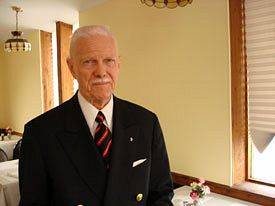 Major Rick Spooner, USMC (Ret.)…the old barkeep

My good friend 1st Sergeant Ray Embree, US Army (Ret.) attends an annual reunion at Fort Bragg, North Carolina, of the Special Forces unit he spent three years with in Vietnam. One of his comrades from those days in Vietnam told him during this year's reunion that one of the main reasons he comes is that where he lives there is nobody to talk to…nobody who really understands what he and his brothers in arms are all about. That is precisely why we gravitate to the Globe and Laurel. By the way, Ray enjoys the restaurant as well, and is welcomed by Rick in spite of the fact that he is a dog faced soldier.

When we go to the Globe and Laurel we shell out money for food and drink, but those commodities are not what we are paying for. Rick is in the restaurant business and has to earn a living, pay the bills and maintain a payroll, so we pay just like we would at any other restaurant. But we are really paying for the privilege of being around each other. The food and drink is secondary to what the Globe and Laurel is all about.

The restaurant is filled with Marine and law enforcement paraphernalia all of which is authentic. There is nothing contrived or phony hanging on the walls or ceiling of the Globe and Laurel. There is enough weaponry hanging on the walls to outfit a rifle squad. In fact I will venture to make the statement that there is no other restaurant in Northern Virginia that has a Thompson submachine gun hanging on the wall. The Globe and Laurel is less a restaurant than a museum with good chow.

When you enter the restaurant you are walking into living history. Rick himself fought in three wars and landed at Tarawa, Saipan and Okinawa during World War II. You never know who you will meet at the Globe and Laurel…Medal of Honor recipients and other heroes of the Corps, former Commandants, other retired general officers, famed FBI and CIA agents, authors, and friends you haven't seen in years.

But it's most important function is that it gives us old Marines a place to gather with those who are like us, where we don't have to try to explain to the unknowing or uncaring what it means to be a Marine. Over the 40 years of its existence Rick Spooner has lovingly created a place where Marines can truly feel at home. The Globe and Laurel is one of the few places in the world where a Marine can go and really know he will get his injection of Semper Fidelis. So thanks Rick, for giving us this haven from the trials and tribulations of the civilian world. The Marine Corps has a jewel in the Globe and Laurel, and I think the senior leadership realizes this. At least I hope they do.

Semper Fi

Dirck Praeger

sends

Click below to return to Dirck's Page.