The Pinto
Either a car for the ages…or an aged piece of junk
While stationed in San Diego, California between 1976 and my retirement from the Marines in 1983 it became more and more apparent that my family needed a second car. We had two young kids and lived in Poway, a city about 20 miles north of San Diego and several miles east of Interstate Highway 15. During the seven years that we lived in Poway I was stationed aboard USS Blue Ridge (LCC-19) and at the Naval Amphibious Base, Coronado, across the bay from downtown San Diego. Both duty stations required my periodic presence at the Marine Base at Camp Pendleton which is about midway between San Diego and Los Angeles, the Marine Corps Air Station, El Toro just south of LA, and at the Marine Corps Air Ground Training Center, 29 Palms which is in the Mojave Desert over 100 miles east of downtown LA. Living in Poway was a good middle ground. Plus both duty stations required my deployment to the Western Pacific a number of times.
In any case when I drove to work at any of the locations where I was needed, my wife Marcia had no vehicle. So we decided to look for a second car. At some point in 1978 after I left Blue Ridge, we settled on a 1974 Ford Pinto station wagon. I think it had about 60,000 miles on the odometer. It had the fake "woodie" sides and was a two-tone pea green in color. Marcia hated the color, but we just had to shell out $1,700 for it, and being the cheapskate that she always accuses me of being, I prevailed. The idea was that it would be used primarily for use in and around Poway. It wouldn't make the trips to San Diego, Pendleton, El Toro or 29 Stumps. We figured that the Pinto would last until I retired from the Corps five years hence, and then we would junk it.
To make life more interesting, Marcia did not know how to drive a stick shift. Her entire driving life had been with automatic transmissions. How someone who learned to drive in the 1960s missed stick shifts is beyond me, but such was the case. So we took the Pinto to the Poway High School parking lot and after a lot of stalling and jerking and hopping around, she learned to master the gear shift. Soon after we got the Pinto we also purchased a new Datsun station wagon which also had the standard shift, so she was set to drive both vehicles anywhere. Well, almost anywhere, to include the hills of San Francisco, but that story will be told later.
To make a long story short, the Pinto ran like a top until my retirement from the Corps on 1 July 1983. Applying the old saw that the only useful employment for a retiring Marine infantry officer was as a mob hit man or a defense contractor, I had accepted a job with the Horizon Corporation, a defense contractor located in McLean, Virginia, a suburb of Washington, D.C. I was to report aboard on 1 August of that year.
Since the Pinto was running so well we decided to take it across country. By this time it was starting to show signs of wear, if not mechanically, then externally. In fact the color and condition in the picture below come fairly close to depicting the real thing. The only things missing are two decals on the back window…one a Marine Corps seal, and the other a Kansas Jayhawk. So we put together a two car convoy…the Pinto and Datsun wagon, loaded up the kids and luggage and headed…north. North? Yes to the San Francisco Bay area to visit my old First Sergeant Ernest Bradford from India Company, 3rd Battalion, 8th Marines days. He has appeared in numerous past tales of those great days. Marcia and her sister Jane, who had come from Buffalo, New York to make the trip with us, drove the Datsun (with air conditioning), and transported the kids, ages 7 and 5. I took the wheel of the non-air conditioned Pinto.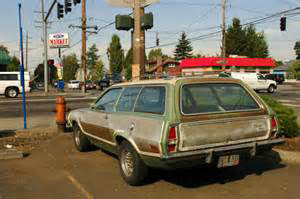 '74 Ford Pinto Station Wagon
We visited San Francisco before seeing Ernest in Richmond, a Bay Area suburb, and drove the steep hills of the city. Being an experienced stick shift operator, I had little trouble, by Marcia, being somewhat of a novice had quite an adventure traversing those heights. She has yet to forgive me for that little side trip. We then spent a night with the Bradfords and then headed west. We spent nights in Reno, Nevada and Laramie, Wyoming, and then dropped down toward Denver and turned west for my home town of Claflin, Kansas.
We crossed the Kansas-Colorado border about mid afternoon and proceed east on Interstate Highway 70. It was the first day of the 1983 wheat harvest. For the wheat to fully ripen for harvesting it must be hot and dry, and it was. We travelled about 150 miles into Kansas and stopped at WaKeeny for gas. The temperature was 105 degrees Fahrenheit. Marcia informed me that she wasn't moving another inch in that heat. I reminded her that she had the air conditioned vehicle and I didn't, but that didn't sway her. I told her that Claflin was less than 100 miles away, but that didn't work either. So we checked into the motel next to the gas station in WaKeeny.
WaKeeny's population is just under 2000. It is the Trego County seat. We did a quick tour of the town to show Jane, the city girl, what a small Kansas village was like. Being hot and dry, most of the vegetation was brown, as is usual in Kansas in the middle of summer. The one exception was the WaKeeny High School football field. It was a beautiful verdant green with sprinklers in operation. Wonder what the priorities are in WaKeeny?
Next morning we continued east on I-70 to Russell, the hometown of former senator and presidential candidate Bob Dole. The combines were in action in the wheat fields all along the way. At Russell we turned south on U.S. Highway 281, then east on Kansas Highway 4 and thence to Claflin. At the farm where I grew up just east of town, the combines patrolled the wheat fields. We spent three or four days at home and then continued our trek eastward with the Pinto chugging along like a new car. We stopped in Lawrence, home of the Kansas Jayhawks, to visit my brother and his family.
From there we proceeded to Buffalo, New York; Marcia's and Jane's hometown, and after a brief visit there headed south for our new home in Woodbridge, Virginia. So the Pinto had more than made it all the way across the continent, but had done so with flying colors. After a year in Woodbridge we built a house in Springfield, Virginia where we live to this day.
The Pinto accompanied us to our new home and hung in there for almost two years. Marcia became more and more disgruntled over it…said it was embarrassing to be seen in public driving it. It was really getting beat up by now. The front window on the driver's side sprung a small leak when it rained and the transmission was starting to act up. I pulled as much preventive maintenance on it as I could, but finally we decided it was time to send it to the happy hunting grounds, much to Marcia's relief. We had expected the Pinto to last only a few years and to remain in California when we left, but it did yeoman duty for us and carried on for three years after that.
In the spring of 1986 we "traded it in" for a Dodge Caravan. I thought that it would immediately go straight to the junk yard and it would never be seen again. But about six months later as I was driving on U.S. Highway 1 near Fort Belvoir, Virginia, a two-tone green Ford Pinto passed me. It had a Virginia vanity license plate that read "P OF JUNK", and it still had the Marine Corps seal and Kansas Jayhawk decals on the back window. It was the Pinto of old, and obviously indestructible.
So there you have the tale of our first "Second Car". It may have been a P OF JUNK, but it was a memorable one, although for Marcia it caused more nightmares than pleasant dreams.
Semper Fi,
Dirck Praeger sends