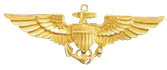 A TRIBUTE TO A HERO AND ROLE MODEL
This is a tribute to a hero and role model, Captain Keith Holmes USAF. Military aviation is dangerous in time of peace and in time of war. But the fair-haired few seek their heart's desire and brave the danger; they always have and they always will.
I've never told you Mofak, but, before becoming a Marine Corps jet jockey, I was a railroad man in San Bernardino, CA (a switchman). Many of us have had interesting beginnings; Don "Ajax" Sharp, my Advanced Training instructor, had been a boy crop-duster.
I used to drink beer and whiskey at "The Place". If I remember right it was a nightclub on Sierra Way Avenue in San Bernardino; and it was 1962. I was below the legal age limit, but drinking whiskey seemed a manly thing to do. One night, after a day at the railroad, I met a "real" man; an Air Force F-105 pilot named Keith Holmes. The encounter would change my life, and it would bring a bitter-sweet end to the invincibility of my heroes. As I was leaving "The Place" at about midnight I encountered a vandal ripping the radio antenna off a beautiful, new, white, 1962 Chevy Impala. I was a pretty health boy, and a bit self righteous, and I grabbed that ner-do-well by the neck and waltzed him into the night club. "Who owns the white Impala", I shouted in a brash voice. Immediately, a handsome, fair-haired, twenty-five year old fellow approached. To keep this story short, I'll just say that after the police took the offender away, Keith Holmes bought me a beer and told me a little about himself. The memory of that remarkable, decent, boyish, fair-haired pilot has always stayed with me.
We met once again in regards to the vandalism; Keith felt that the vandal should be held accountable, and we went to court. Keith Holmes was flying the biggest, single-seat fighter in the Air Force inventory. It was so heavy that, jokingly, the typically, self-deprecating, pilot who flew it might have called it "the tank killer" (taxi the F-105 over the top of a tank, retract the landing gear, and crush the tank). Yet the F-105 was not a jet fighter to sneer at, and its day was soon to come; and it would be legend! Walt Slater (F-4s), my college room mate, had himself photographed in front of an F-105 during his Air Force flight training, and he taunted me. Gary Olin, my Pacific High School classmate, would fly the F-105 to "Down Town" Hanoi on his combat tours and live to talk about it. As it turned out, so did Keith Holmes. He also survived the war.
Well, life takes its turns, and my turn to fly came. I chose the United States Marines because my brother, 2ndLt Jack Ruffer, was a Marine. And I like to think that I was a Marine at heart, even before I signed; maybe even before birth. When that strip mall Gunnery Sergeant put the correction key over my forty question answer sheet in April of 1966 I was heartened to hear him say, "Yeeooo Cuhn beee aee Maureeen Cooraw Offiswer!" With that, I had passed the only test that I would have to pass for the Marine Corps; that is, until I was introduced to Marine Corps Base Quantico, VA. And OCS at Quantico was a real challenge, but I made the grade along with fifty percent of my candidate platoon.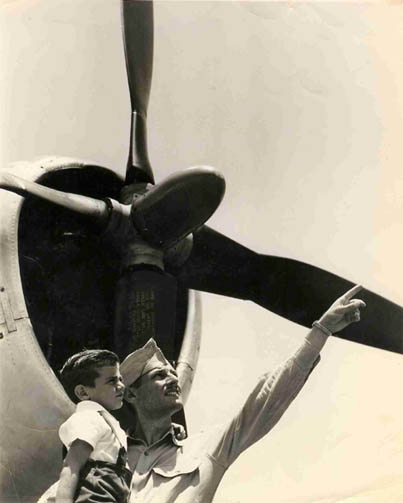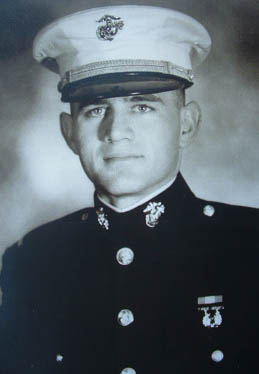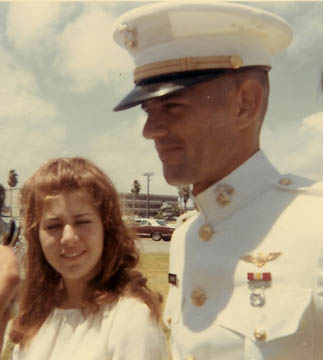 My Pilot Father and Me Commissioned 2nd Lieutenant My Sis At My Winging Ceremony
From Quantico I went to the Naval Air Training Command at Pensacola, FL where I was the only Marine in my Basic Flight Training Class allowed to enter the jet pipeline; Helicopter pilots were what the Marine Corps needed in February of 1967. I passionately wanted a jet fighter, and I worked for that "single quota of honor"; that one exception that the Marine Corps made which allowed one Marine student pilot in each Basic Training Class to have his choice of aircraft. Norm Billup had gotten jets that way three months earlier; and Bob Bohm, a month after that, and he was followed by John McIntire. We all knew their names. Now it was my turn.
Regressing a bit; Yes, I would yet hear from, or hear about, the fair-haired Keith Holmes. But first I would fly from Saufley Field (T-34) and from NAS Meridian (the T2A); then I would be at Sherman Field (the T2B) and hit "the boat" off Pensacola. Finally, I would be at NAS Kingsville, Texas (the F9F). While at Kingville, in Advanced Jet Training, a few of us made a four-plane flight to NAS Jacksonville, FL for carrier qualifications. It was quite a magnificent cross-country. For the first time I was to see and feel the beautiful prospects that military aviation offered. We flew a tight formation into each refueling stop along the way; we learned to "look good in the break". We took advantage, along the way, of conveniently placed bridges for dive bombing and we saw the back-woods people of the Okefenokee Swamp up close and friendly as we flew by at 200 feet AGL. In Jacksonville I attended a musical performance by Ferrante and Ticher (They were all the rage, about then) The carrier qualifications aboard the USS Essex never happened for us, but I was at sea with her and observed a Skyhawk (A-4E) turn into a flying roman candle after the arresting cable the hook was trying to snag, snagged the aircraft.
Back at NAS Jacksonville, a few days later, I watched a flight of visiting F-105s get ready to "light" there engines, and I wondered why there were no external power units there to get them going. Then, suddenly, BOOM!!; And then a giant cloud of white smoke engulfed the aircraft as DASH-ONE's engine spooled-up for flight. Each F-105 had an internal (one time use) cannon-shell cartridge which, by "detonating", would turn the aircraft's compressor turbine hard enough to start the jet. I took the opportunity to kibitz with one of the Air Force pilots before he strapped in, and after some talk about his impressive jet I ask if he knew my hero and roll model, Keith Holmes. He did! But this aviator's demeanor was somber. Yes, Keith had survived a tour or two flying the F-105s to "Down Town" Hanoi, but he had perished, while still on active duty, in his home. "The Ranch" they'd called it, was near George AFB, out side of San Bernardino. There had been a house party, and afterwards everyone had left the "ranch" to go to town. Keith had stayed at the ranch to sleep, and a fire that night destroyed the ranch with Keith Holmes inside. I had lost a hero, but not the role model; I would lose more. Norm Billup died in aerial combat in Vietnam: John McIntire had ejected from a T2A, never to fly again. Ward Briggs had ejected from a stricken F9F, and had plummeted to the earth (We had each been the lucky number-one who had gotten his jet). They "were" the handsome and the decent and the boyish, fair-haired few.
Semper Fi
Jim Ruffer