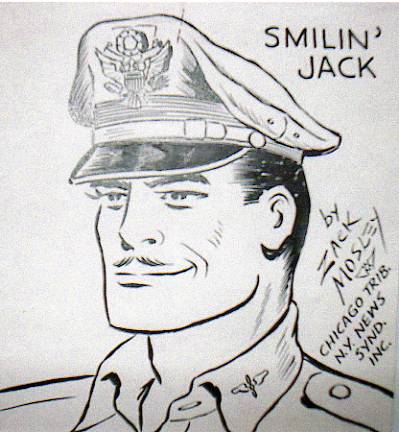 ZACK AND SMILIN' JACK
Zack Terrell Mosley was born in Hickory, Oklahoma on December 12, 1906. As a Quiet Birdman, having been inducted into the New York Hangar in the late 1930's, Zack Went West on December 21, 1993 at the age of 87. Zack acquired a love of flying at a young age and stayed with aviation all his life. His aviation interests were manifested in his other love which was drawing. After completing 3 years at the Chicago Academy of Fine Arts and the Chicago Art Institute, he took his drawings to Joseph Patterson, owner of the Chicago Tribune-New York News Syndicate, and his comedy/adventure strip about 3 fledgling student pilots "On the Wing" was syndicated on October 1, 1933. However, Patterson changed the name to "Smilin' Jack" on December 31, 1933 and that is what it appeared as in more than 300 newspapers until 1973.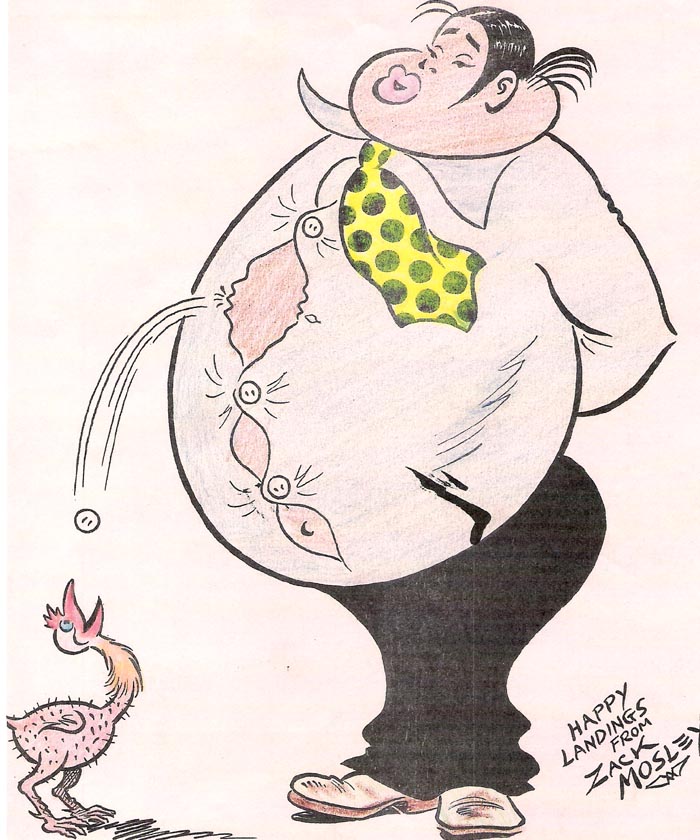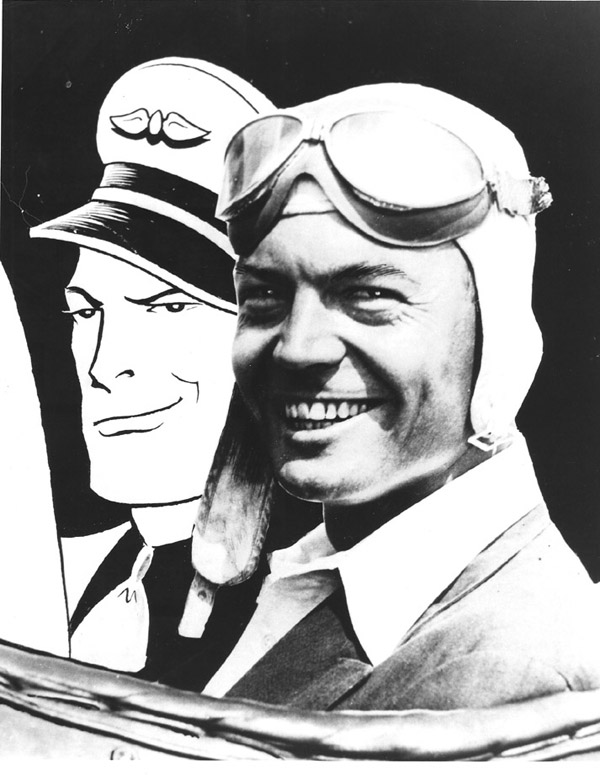 Fat Stuff Jack and Zack
Zack put humor into aviation and always kept abreast of the latest aviation innovations. His comic stories were ideas gained from real aviation experiences he learned in his travels throughout the US. His characters were based on people he met or knew personally and would bring a laugh to Smilin' Jack readers. Some most remembered are Cindy, Claw, Dixie, Downwind, Fat Stuff, Joy, Jungle Jolly, Stretch, Teekeela, The Head, Tomaine, etc. Zack's smile was worn permanently and that probably caused Patterson to change the name of the smiling character in the comic strip. Zack's personality and his smile were reflected in his comic strip creation "Smilin' Jack."
Zack was one of the volunteer members of the Civil Air Patrol (CAP) and flew over 300 patrols off of the Atlantic Coast during the first year and a half of World War II. The anti-U-boat missions were in civilian aircraft and carried depth charges and bombs. The United States Government awarded Zack the Air Medal for his voluntary Civil Air Patrol actions against the German U-boats in World War II. Zack served as the CAP Wing Public Relations Officer for Florida and eventually became Florida State Wing Commander of the CAP. Zack was inducted into the Air Force Hall of honor in 1976.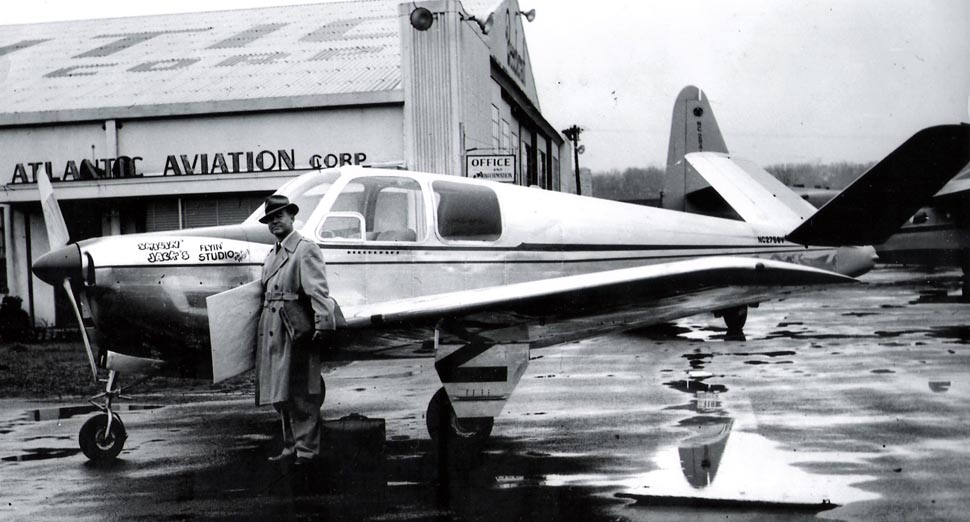 Zack at Teterboro, NJ in 1947 picking up his new Bonanza with his special tail number N11111
Zack flew all over the United States promoting aviation and obtaining ideas for his comic strip. He was a goodwill ambassador for aviation and for his own comic creation. For five years Zack's brother Bob Mosley flew with Zack on his countless flights across the Country. Bob flew the plane on the many trips as much as Zack. Bob has a multitude of stories and memories of the wonderful years of working with Zack on "Smilin' Jack."
Bob Mosley relates: "Another Late Take Off (Again)!"
Once on a trip to New York City Zack, Betty, Ann (Betty's sister) and I were going to New York to the News Paper Convention in the Bonanza. We had stopped In Charleston S. C. to see Zack's friend, Les Brown, Bob Hope's Orchestra leader, who was there for an outdoor Bob Hope show of some kind. I remember all of us meeting Doris Day the singer who put on one great show out at the stadium that night where it was very cold for South Carolina. I marveled how anyone could sing so great out in what must have seemed like freezing weather to some one from California.. In any event Zack did a lot of partying that night so we did not get started on our leg on up to New York until well into the afternoon. It was really a silly game Zack was playing. He wanted to party all night, which meant he could not get up early, which meant a late take off, with all of us knowing he did not like to fly in instrument conditions (let alone thunder storms) nor did he want to fly at night. But, he would continually be late and of course we were highly likely to encounter bad weather in the afternoons and certainly darkness every time. So it was, once again, on this trip. We were up near New Jersey heading for the Teterboro Airport, where he had bought the Bonanza, but it started to get dark before we could get there. Zack naturally wanted to land so we looked at the map and found a small airport on our path. We found the airport but it was just a grass field with (obviously) no control tower. I circled the field a couple of times and finally came to a decision as to which way I was going to land (it looked like the grass had been sort of beat down in that one particular direction so that is the part of the pasture I elected to use. The landing was smooth (it is easy to make smooth landings on grass) but on landing roll out, while still going about 60 MPH, an indentation (or hole, all covered in grass) passed by my left wing that could/would have swallowed that Bonanza if I had landed and rolled out 10 feet to the left of where I did. The only warning the locals had made for this very serious condition was to put a small post, not much larger in diameter than a broom stick out in the middle of it. It did not even have a red flag, a ribbon, or anything on it; just a stick; but not even a flag would have helped with us landing at dusk like that. I have previously mentioned, probably 10 incidents where I was lucky not to have been killed or maimed up to now in these stories but I consider this one to be right up there with the best of them. For as I saw that hole (not visible from above because it was covered in grass, just like the rest of the field) I almost crapped in my pants. I could see the headlines, "Smilin Jack" Busts his Ass in New Jersey!
Bob remembers a time going to Calif. in the Bonanza and somewhere out west of Wink,Texas------




We were headed out to California and at some point that afternoon Zack decided that he wanted to have a drink. Since I was doing the flying he could have well had a drink in the plane, because he usually kept a bottle in a little bag he carried, but for some reason he must not have had any thing with him. So when we landed for gas, in some little town out west, he naturally starts asking around about getting a drink. He was told that drinks could not be sold in the bars until after 6 PM or something like that and the only way he could get a drink was that if he were staying in a motel, the motel could sell him a drink before 6 PM. Zack was never one to be told no, so he rented a motel room for the night so he and Betty could go in the motel room and have a drink. I went in with them but, obviously, I did no drinking. So after they had a couple of drinks we went back to the airport and took off for the remainder of the flight to Los Angeles.




With the stop at the motel we were back in our late arrival mode as mentioned earlier, like when we nearly ran into the hole in the middle of the grass field, when landing at dusk, in New Jersey.


As we headed on down the valley toward Los Angeles, after passing Palm Springs, the sun was starting to get low and some valley smog was starting to make visibility a little difficult. We saw a little airport at Banning, Calif. and passed it up momentarily, but even though I had a current instrument rating, I knew that I did not want to continue on into a busy place like Los Angeles after dark with limited visibility and on no flight plan of any kind. So, we made a 180 degree turn and went back to Banning and landed just about dark. Fortunately there were no holes in the runway there.

Banning is located about 100 miles from Los Angeles and Zack did not want to wait until the next day to get there so he decided to leave the plane at Banning and rent a taxi to take us into LA that night. Of course that meant we had to take a taxi from LA back to Banning when we departed about a week later also. I never knew what that cost, but two 100 mile taxi fares for three people, was definitely above my pay grade. AND, a little earlier departure that morning would have prevented the whole taxi escapade. As stated several times though, Zack was the most generous person I have ever known, and while what I have written might seem to make him out to be more self indulgent than generous, believe me he was generous in all ways.

.
Two early "Smilin' Jack" comic strips are added for your enjoyment.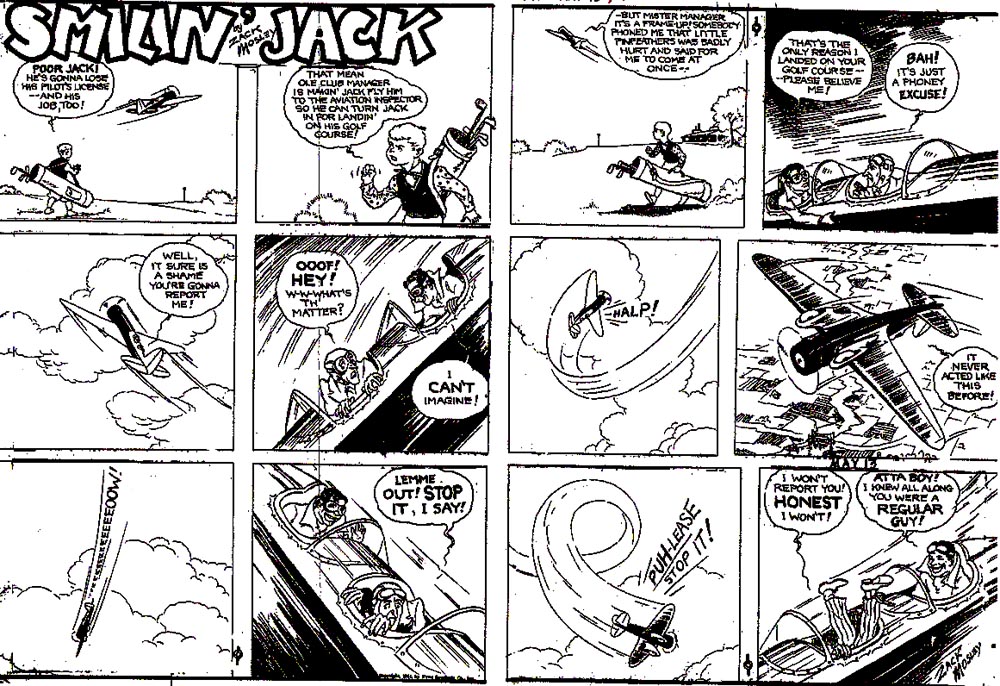 May 13, 1934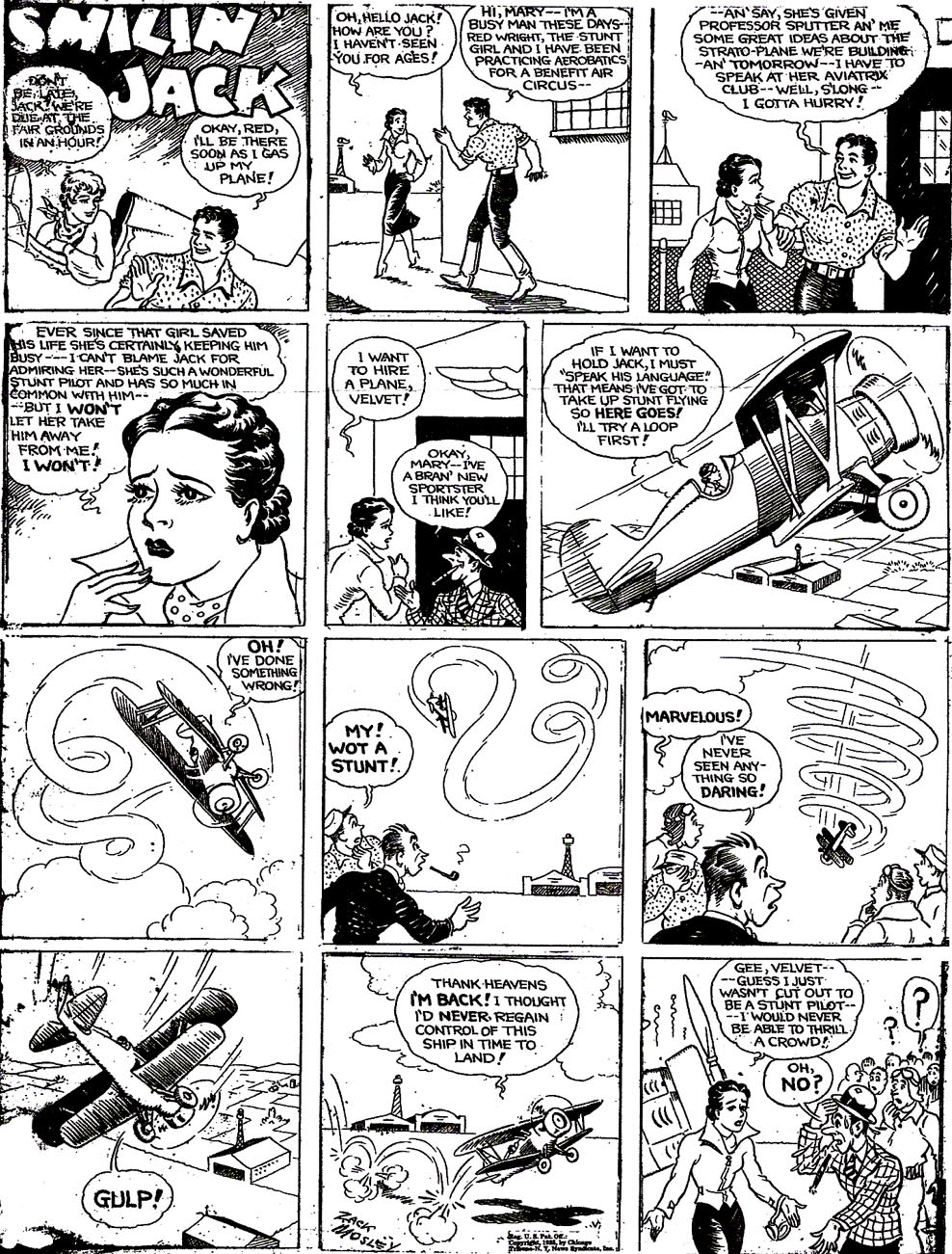 Smilin' Jack 1935
~~
Thanks to Bob Mosley for the pictures and stories in this Zack Mosley tribute.
Semper Fi
Mofak